In her books, Patti Fields shares the profound spiritual messages she received through dreams, visions, and channeling. Her Guides' teachings include practical ways to apply the messages to universal life situations for the purpose of healing and transformation.
---
Dreaming Miracles

– Spiritual Messages That Help and Heal
"My dreams are a scrambled mess. I can't believe they reveal anything other than a hodge-podge of fears, secret desires, and what I ate for dinner." Patti Fields shared this common understanding about dreams until one night in the depths of despair, she had her first spiritual dream. With the sudden opening of this communication channel, Patti began to receive transformational messages for herself and others.
Dreaming Miracles presents the spiritual dreams and visions Patti Fields received while facing life's challenges and hardships. The messages provide profound answers to universal questions like: Why are we unhappy? What blocks abundance? What heals dis-ease? How can we release fear and overcome limitations?
Unlike other dream books, Dreaming Miracles is a blend of captivating storytelling, intuitive dream interpretation, and practical tools for transformation. It interweaves intimate experiences of personal hardship, spiritual insights, and inspiring examples of healing, to help YOU experience miracles, too.
Learning about universal blocks and unconscious patterns, you become aware of what is holding you back from living a joyful life. Applying the reflection questions that follow each message, and utilizing the step-by-step guide can help you:
Restore harmony to your relationships
Become open to new opportunities
Release unworthiness and guilt
Fulfill your life's purpose
Establish your own spiritual dream practice
I've been journaling and interpreting my dreams for over 40 year. I have read about dreams and symbolism from the likes of C. Jung, M.P. Hall, E. Cayce, and by far THIS is the best book on dreams I have ever read. A must read!!!

Jessica Jacobson-Hale
Available Now:
---
Release Date – March, 2023 Published by Sunbury Press
While completing Dreaming Miracles, an unexpected event occurred. A spiritual dream introduced Patti Fields to her Spirit Guide, Neshea. The following morning, she surprisingly received the first of over 50 channeled messages. They were so profound and compelling that it was clear they would be helpful to others. Patti immediately began transcribing the messages so that she could share them in a new book, Freedom Now.
Freedom Now teaches how to expand our awareness beyond our limiting thoughts, feelings, and perceptions to reach expanded states of consciousness where miraculous changes can occur.
"Anyone who walks the world in a spiritual state of pure love, freedom, and joy reminds us that God gives us everything now. To reach this state while living in this world requires a particular form of practice that is not useful to those who are willing to wait. For those who believe they can have freedom now and are willing to use their life experiences as a means to freedom, these teachings and practices will be very useful. When you reach this state-of-being through your commitment, determination, and vigilance you encourage others to not delay." Neshea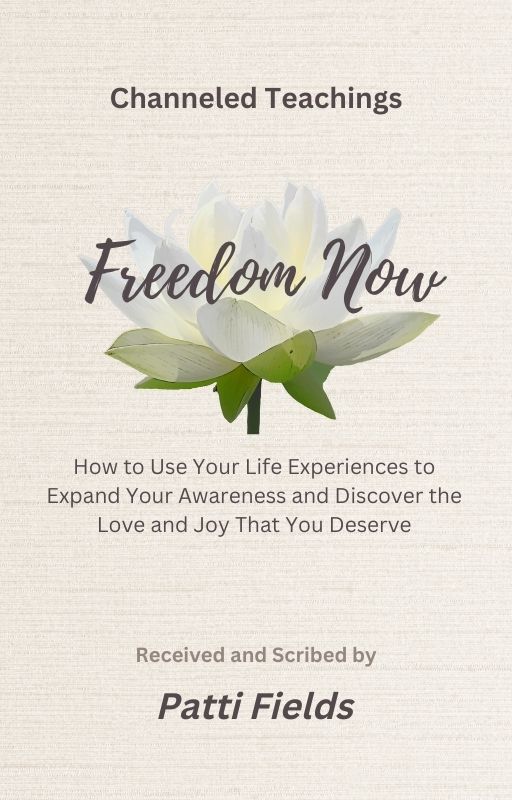 ---
During the last year, I was given a series of channeled teachings pertaining to particular topics. I am in the process of transcribing the guides into a PDF for easy access on this site. To receive alerts of when the teachings will become available, enter your name and email in the form at the top of the page. I am excited to share these profound and transformative teachings with you!
A Lightworker's Guide to Fulfilling Your Destiny
A Guide to Aligning with the Source of Healing
Special Instructions for the Role of the Healer
A Guide to Communicating with the Spiritual Realm
Your Role in Co-Creating
Navigating Life's Transitions, Changes, and Transformations
---
Patti Fields' dreams speak to me as though I am the dreamer. Her gentle guidance removes the lens from my ego and places it over my heart. There are no prerequisites for this book. Be open, be brave, and listen to what God has to say to you. – Rev. Mary Ramerman Former pastor, Spiritus Christi Church
Patti Fields provides us with the tools and the motivation to seek and discover our spiritual fortunes. Among the most helpful recommendations are the contemplation questions, which follow each chapter. By applying the techniques offered in Dreaming Miracles, the reader can discover and remove the blocks to the awareness of the presence of love, peace, and joy. Thus, true freedom and exhilaration may be experienced! – Rev. Barbara Adams, OMC, Teacher and Author
With wonderful anecdotes and transparency about her own challenges, Patti Fields exhibits a genuine interest in helping readers reframe the opportunities that can be found during times of loss, challenge, and debilitating doubt and fear. This book is jam-packed with lots of applicable insights to be used in this unsettling world we find ourselves in today. – Joseph Pennell
Thanks to Patti Fields and her book—Dream Miracles—I've had an awakening. Authentically presented through a series of personal experiences, Ms. Fields clears a path through what is often a subconscious jungle. Taking the reader by the hand, the author offers guidance through open-ended questions. The clearing at the end of the trail will shine a light through the darkness. Dreaming Miracles is the book we all need to open. – Roz Pullara, Author
Although the book is perfectly sized for reading in a short period of time, I wasn't ready to be at the end! I wanted to hear more from this author and her experiences and insights. The flow and style of her writing made the topics and teachings so relatable and with a little sprinkle of humor too! The contemplation questions after each chapter will make this book one that you have at your side and ready to go back to as you face different things in your life. – Anonymous
Undoubtedly, the author has cultivated a pathway to receiving spiritual wisdom, and shares her personal reflections, visions, and dreams as a means of inviting the reader to share this road toward their own personal healing and transformation. Additionally, she offers practical methods for those who desire to explore a deeper connection to the inner treasure house of Spirit. This book will prove to be an invaluable asset and guide to one's inner journey. – Bob B
This book is packed with wisdom that can transform your life. These concepts can be difficult to grasp, but Patti's stories and dreams are so engaging and poignant that it becomes accessible to any reader. She generously gives the reader a backstage pass to some of her life's most painful moments and shares how being self-aware and open to receiving spiritual messages and lessons can bring total healing to some of the most gut-wrenching human experiences. – Kristen B